310.819.3250

103 S Robertson Blvd. Los Angeles, CA 90048
Main Content
The Altman Brothers
Our Office
The design intent was to reimagine retro-modern design and stitch two luxury brands into ONE. Douglas Elliman and The Altman Brothers a co-branding collaboration. Commercial high-end installation in a luxury flagship retail application.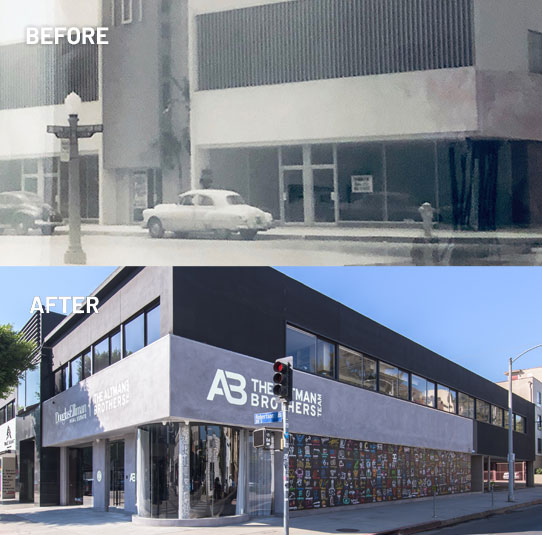 The inspiration of design budded out of an exterior facade dating back to the Scottish Museum of Modern Art. An exterior facade of debossed corporate illumination floated inside a polished concrete banner achieving a zero-elevation design. The pinnacle of refinement, elegance and understatement of signage. Below the signage is 10" high volume of vertical storefront glass connected to an optically shaped rotunda corner and 60 linear feet of world class commissioned modern street art.
Once inside, the environment is tactile in ultra-lux finishes and style. A romantic boutique hotel lobby feeling that showcases a 1958 Rosewood Mid-Century fluted tandem reception desk with a backdrop of vintage Port Black marble that is full height and book matched. The envelope is then incased in acoustically enriched wool felt walls, heather grey terrazzo floors and Italy's finest Minotti lounge soft seating. The theatrics of Londonss Burt Frank's lighting then sets the optics of ambience.
Commercial in program and application with supporting a transaction sized conference room, celebrity sized matching executive offices and private banking open plan workstation environment. An environment surrounded by an intersection of fine art and luxury real estate. Privatized by industrial steel and glass partition walls and adorned by rosewood veneer paneled walls and solid brass baseboard inlays.
The buildings mid-century modern architecture dates back to Irving Kritzler in the early 1950's. A concrete wraparound banner facade with one hundred and thirteen linear feet of storefront corner glass curtain wall. A style of design that was popularized from the 1930s through the 1960s. Characterized by a contemporary, seemingly futuristic aesthetic and an emphasis on function.
The 3,227 square foot interior floorplate boasts expansive ceiling heights while drawing in floods of natural light. A space that is volumetrically correct in proportions and footprint while inviting comfort and success.
Vision is the single most important sense through which we enjoy architecture and information technology is the backbone of our future.
Click
Click
Click
Click
Get in Touch
Request Details
Tell us how to reach you and we'll get back in touch.
Get in Touch
Schedule A Showing
Tell us how to reach you and we'll get back in touch.
Current My Listing Manager Member Log In Here
Create Your Account. It's free and only takes A minute