310.819.3250

103 S Robertson Blvd. Los Angeles, CA 90048
Main Content
Blog
What would an NFL team do for the city of Los Angeles?
Growing up as a New England Patriots fan, I have always loved football. I was lucky enough to have played in college and further my love for the sport by watching every Sunday. After moving to Los Angeles, I remained a Patriots fan, but with the announcement of a new NFL stadium in Los Angeles, things may change!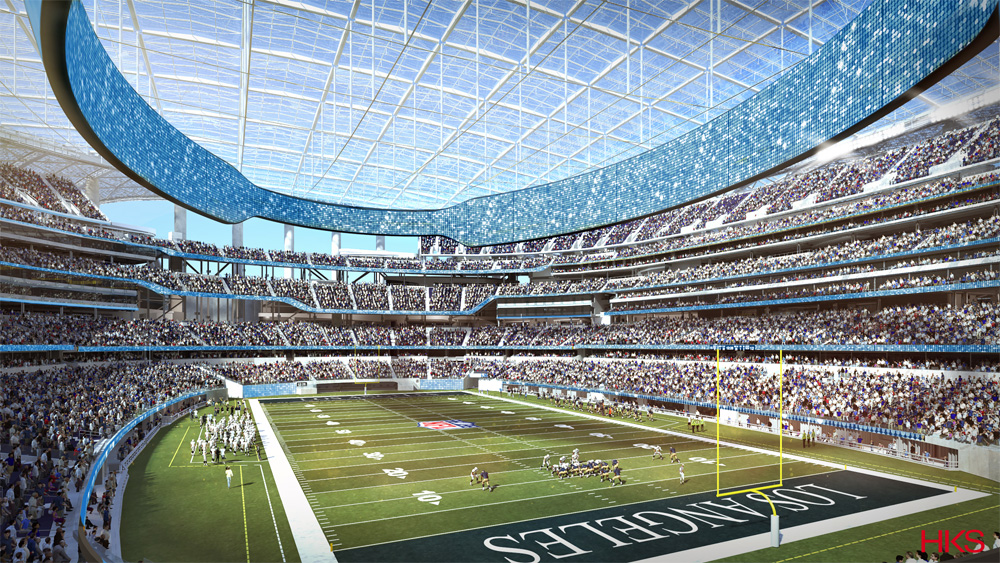 Friday, Inglewood is named Los Angeles Neighborhood of the Year; Monday, the announcement comes that it's getting an NFL stadium and a big new music and events venue. Coincidence? Maybe. Billionaire St. Louis Rams owner Stan Kroenke bought a 60-acre site next to the old Hollywood Park early last year, but never made it clear what he was going to do with the property. Now the LA Times says he's decided to team up with Stockbridge Capital Group, the developers of the mega-mixed-use project underway at the former Hollywood Park site, to create an 80,000-seat NFL stadium and parking, plus a 6,000-seat performance venue. Hollywood Park's nearly-300-acre site already has retail, residential, office, and hotel space (plus two lakes!) coming its way, but this additional collaboration adds 60 more acres of completely new space. This new configuration of the development is being called the City of Champions Revitalization Project.
Could be finished as soon as 2018 >>
An email message from Inglewood's mayor says that an initiative was filed this past Friday "to amend the Hollywood Park Specific Plan to include an Sports/Entertainment District," which would add the stadium/venue in the already-approved Hollywood Park development plan and speed up eventual construction. The mayor's announcement also stated that no tax dollars would be used for the project.
Stockbridge and Kroenke will begin working soon to gather signatures to put the project on a ballot for municipal elections in Inglewood this year. If all goes according to plan, developers say the stadium could be finished as soon as 2018.
Of course any plan has to please the NFL, which has said it wants to move one or possibly two teams back to Los Angeles in the next two years (a team would probably have to play in a temporary home like the Rose Bowl while its official stadium is built). At least three teams are reportedly unhappy with their stadium situations, one of which happens to be owned by Kroenke (the Rams). The Oakland Raiders and the San Diego Chargers are also sore about being stuck in older stadiums and might be interested in making the move to LA for a brand new space to play.
Meanwhile, Downtown's Farmers Field stadium continues to move ahead despite reports that the NFL is not a fan, a couple team owners have been showing interest in a site in Carson, and a long-gestating City of Industry stadium plan has been pretty quiet.
Source: Curbed LA , January 05, 2015
Click
Click
Click
Click
Get in Touch
Request Details
Tell us how to reach you and we'll get back in touch.
Get in Touch
Schedule A Showing
Tell us how to reach you and we'll get back in touch.
Current My Listing Manager Member Log In Here
Create Your Account. It's free and only takes A minute